Vendor: Moozii
Type: Feminine Care
Sku: BlackKnobS
Available: Available
Currently there are
peoples are currently looking at this product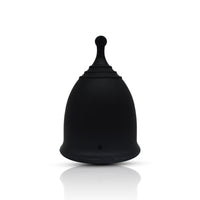 The Knob Cup (With Bonus Storage Bag)
- Small
$29.00
Love my new cup!!
I've been using DivaCup for many years. I'm trying to switch to all Black owned products. So glad I found Moozii!! Thank you!!!
My new bestie
These things are unbelievable
Love my new Moozii Menstrual Cup
Super easy to use, holds more than other cups, just firm enough, easy to clean and store. I have very heavy periods and I didn't need to change my new moozii cup as often as other brands I own. Very high quality and durable!
Great product!
This is my first time trying period cups and I'm so glad I made the switch! The cup is super comfortable and I don't worry about switching out my pads or tampons every few hours when I use this. Feels great to use a more eco friendly option for my period too. The case is cute and sleek, so glad I got the set!